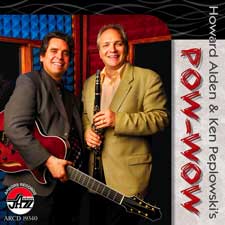 HOWARD ALDEN AND KEN PEPLOWSKI'S "POW-WOW" - ALL ABOUT JAZZ DECEMBER 2007
Pow-Wow
Howard Alden/Ken Peplowski (Arbors)
by Andrew Velez
Whether you were fortunate enough or not to have caught Howard Alden and Ken Peplowski's recent Bargemusic reunion, Pow-Wow will do very nicely to dig these longtime musical good companions. Much of the Barge evening drew upon this latest recording of theirs, offering a perfect, quietly spectacular skyline setting for these two, both who eschew pyrotechnics. Their playing is exciting enough in its simplicity. Hearing their variety, range and richness can make it seem like listening to more than just two players.
The title track (guitarist Joe Puma's tune based on the changes of Ray Noble's "Cherokee") starts the CD off in such jumping synchronicity that Alden's guitar and Peplowski's tenor sax seem to be a multi-voiced single instrument. Another high point, "Did I Remember?", is a gem which Billie Holiday sang on her first recording date. For this nostalgic tune Peplowski switches over to clariinet and together he and A1den conclude it with a burst of especially exhilarating improvisation.
On Duke Ellington's rarely heard "Who Knows", which is somewhat boppish in flavor, Peplowski is again on clarinet as he trades playful licks with Alden. It's followed by "After All", a thoughtful Billy Strayhorn beauty, on which the warmth of Peplowski's clarinet is ever so gently supported by Alden. In playing a set that refreshingly mixes near classics and lesser known nuggets, they cast a spell as emotionally strong as it is thoroughly modern.
All About Jazz December 2007
Cadence July-August-September 2008
Howard Alden/Ken Peplowski-"Pow-Wow" Arbors 19340
Each group of new CD issues brings versions of broadly-defined jazz traditionalism, with varying results.
Gratifying empathy distinguishes (1), which finds Alden and Peplowski in subtle, intense musical conversation. A duet CD might come to seem cramped, but the varied repertoire makes this one an hour of pleasures. Both players can play anything they can imagine---and their imaginations are large---but they have more to offer than the ability tp articulate cleanly at top speeds. This CD is a thoughtful conversation between two musical friends who become the song, even when they are romping through the opening track, guitarist Joe Puma's variation on "Cherokee" changes. The ambiance suggests the Lucky Thompson trio and quintet sessions, a great compliment. Peplowski's solo feature on "I See Your Face Before Me" is compelling music, and their "The Things We Did Last Summer" is a track I keep coming back to.
Michael Steinman, Cadence Magazine